St Clements will hold
 Out Door Church Services
at 11:15 a.m. EVERY SUNDAY
until the end of August,
weather permitting
Some pictures from June 21, 2020.   Everyone Social Distancing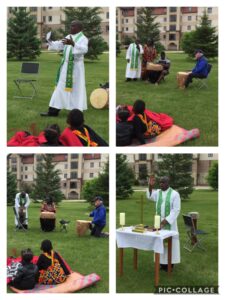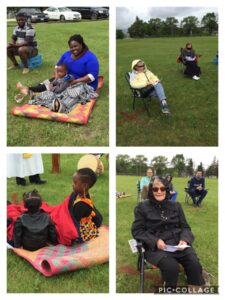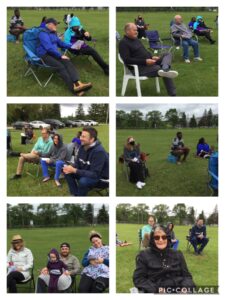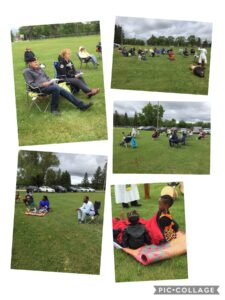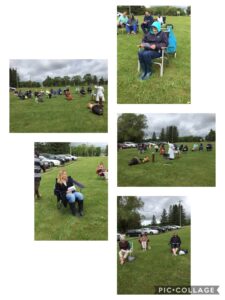 The service will be held on the Church Property that is located to the west of the Mapleton Lane seniors building, close to #9 Highway ( Main Street ). Please enter off of the highway; parking is adjacent to the area.
This service will take place adhering to all of the Health regulations to meet the current Covid 19 requirements.
1) No more than 100 people will be allowed at the service.
2) The 50 minute service will commence at 11:15 a.m.
3) Social distancing will be enforced.  Please  bring your own lawn chair. Families living in the same house may sit together.  All others must be seated 6' a part.
4)  Your offertory can be placed in the box at the entrance area where you will receive the bulletin for the service and hand sanitizer.  Don't forget your donation for the Food Bank.
5) Eucharist will not be celebrated and there will not be any hymns as per provincial regulations. The Peace will be acknowledged by a nod or a wave only, do not leave your seat. 
6) Your Bulletin must be discarded at the end of the service.
7) A time for Fellowship or coffee will not take place at the end of the service.  You will be asked to immediately take your chairs and return to your cars.

           The church building remains closed
                 but
                  God's Church is always open
How Great Thou Art
For your listening pleasure.
During COVID 19, the church continued to support the Selkirk Food Bank.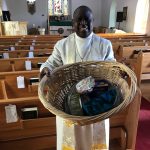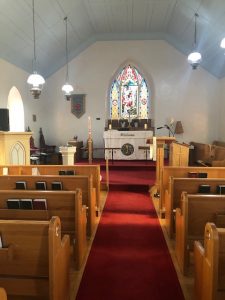 Requests for prayer
As the community works together to manage the effects of COVID-19 on all of our lives we are experiencing unprecedented and sometimes disturbing changes. For many people this is a cause for anxiety for some it's a time of extra risk and vulnerability. Others may have worries about managing day-to-day life over the next few weeks.  One way we can support one another is through ongoing specific prayer. If you have a particular need for prayer please email the clergy at.   stclementsanglicanchurch@gmail.com We will be honoured to include you in our ongoing prayer
The Church building is presently closed due to COVID 19.  We will hold outdoor services until the end of August, and assess it at that time.
St Clements Anglican Church
1178 River Road
St. Andrews, Manitoba R1A 4A1
Office 204-482-9486
OUR SERVICES:
Sunday Services
Early Service 7:30 a.m.
Later Service 11:15 a.m. ( with music )
Welcome to St. Clements Anglican Church!  We are a warm and welcoming Parish that has served the Mapleton, St. Andrews, and Selkirk area since 1861. The Church abounds with history, and many stories and archives are available.  St. Clements Church was built by local volunteer labour;  we mention this as the volunteer base still exists here at St. Clements, and continues to build a strong foundation.  We have learned well from our ancestors.  Please take a moment to explore our website, and read about some of the events that are going on, all in the love of God.  You would be most welcome to join us for our Sunday morning Service!  Enjoy, and God Bless.
Where we are located
You will find our beautiful stone church at 1178 River Road, St Andrews, Manitoba; we are located minutes south of the City of Selkirk.  Our church borders the Red River, and our Church Park is located on the flats of the River.  It is a beautiful serene location…  If you are new to the area, or have lived here for many years, we encourage you to come and get to know us!  We would be glad to meet you!  Come as you are, and as you get to know us, we hope that you will get to know God.
Worship Times and Eucharist
Our regular service is 11:15 a.m. Sunday mornings which includes our Sunday School program.  We also have an early Sunday morning service at 7:30 a.m.  This service is a condensed version, but remains well attended by those who work nights and weekends, or for those who need the rest of the day.
St. Clements celebrates Holy Communion every week.  All those who are baptized are welcome to receive the sacrament of Eucharist in the Anglican Church according to your conscience.  To receive the Bread put your hands one on top of the other.  To receive the Wine, hold the chalice firmly in your hands and drink.  If you do not wish to receive either the Bread or the Wine, please still come to the altar for a blessing; cross your arms over your chest.  Parents are requested to instruct their children.  For health reasons you may stand at the altar to receive the Holy Sacrament or the blessing. If you are unable to leave your seat, please notify us and we will gladly accommodate you.