Current Liturgical Season
The Season after Pentecost (Ordinary Time)
"To live the liturgical year is to keep our lives riveted on one beam of light called the death and Resurrection of Jesus and its meaning for us here and now." (Joan Chittister, 'The Liturgical Year)
The liturgical year consists of the cycle of seasons of the church year. It begins with the Season of Advent in which we prepare to celebrate the birth of Jesus, and ends with the celebration of the Reign of Christ. The liturgical year includes many dramatic high and low points within the story of salvation – the story of the birth, life, death, resurrection and ascension of Jesus.
In between those dramatic liturgical occasions are periods of 'Ordinary Time'. There are two such times within the year. The first begins after the Baptism of Jesus and continues until the day before Ash Wednesday (the beginning of Lent). The second begins after the celebration of Pentecost and continues until the Reign of Christ. This season is known as the Season of Pentecost.
So, in a sense, Ordinary Time is that 'time between times', a time without the drama of Christmas, or Holy Week and Easter. However, it is through regular worship in Ordinary Time that we discover the deeper meaning of those more dramatic seasons. It is through the readings, prayers, and music of this season that we, as Christians, discover the world through the eyes of Jesus. And, it is during this season that we discern how we are called to live according to Jesus' life, death and teachings.
"Clearly the human-divine relationship in the Trinity, the unifying force of the Eucharist, the mercy of God, and the lordship of Jesus bring all the scriptures of Ordinary Time to life. These feasts, born of popular devotion and theological thought, make Ordinary Time a time for making the faith the force of daily life." (Joan Chittister, 'The Liturgical Year')
LITURGICAL SEASONS – Over 12 months the church celebrates the seasons as shown in the graph below.  The Altar Linens and vestments are  changed according to the colour for the season or the celebration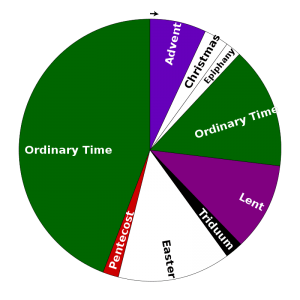 Thanksgiving Service. OCTOBER 11, 2020
                            St Clements Church
                        10th Annual Toasty Toes
This will be our 10th year of providing new warm socks to the Salvation Army Hostel.  Please drop off your donation of socks at boxes located at St Clements Church, Bank of Nova Scotia, Mighty Kiwi, Gaynor Family Library, Glow Womens Fitness and Steeltown Physiotherapy.  Thank you in advance 
~~~~~~~~~~~~~~~~~~~~~~~~~~~~~~~~
St Clements has resumed church services inside the church
There will be a 7:30 a.m. service and an 11:15 a.m. service.  We encourage people to come to the 7:30 a.m. service as we can only accommodate about 40 people ( 30% capacity )  in the church for the 11:15 a.m. service.
DETAILS:
– MASKS ARE MANDATORY FOR THE ENTIRE SERVICE.
– THE GREETER MUST SIGN YOU IN, AND DIRECT YOU TO SOCIAL DISTANCING SEATING.  FAMILIES WILL BE SEATED TOGETHER.
– THOSE ATTENDING THE 7:30 A.M. SERVICE WILL BE ASKED TO SANITIZE THEIR PEWS BEFORE THEY LEAVE.  CLEANING SUPPLIES WILL BE SUPPLIED.
– COMMUNION WILL BE CELEBRATED IN ONE KIND ONLY ( BREAD )
– HYMNS WILL NOT BE SUNG
– YOUR OFFERTORY CAN BE LEFT WHEN YOU SIGN IN.
– PLEASE ARRIVE EARLY.  THERE IS A CHANCE THAT YOU WILL NOT BE ABLE TO ENTER TO WORSHIP IF THE CHURCH REACHES CAPACITY.
– YOU WILL BE DIRECTED HOW TO LINE UP FOR COMMUNION AND HOW TO LEAVE AFTER THE SERVICE IS OVER TO MAINTAIN SOCIAL DISTANCING REQUIREMENTS,
– DO NOT ATTEND IF YOU FEEL UNWELL.
– IF YOU KNOW THAT SOMEONE DOES NOT HAVE INTERNET PLEASE CALL THEM TO INFORM THEM OF THESE DETAILS.
– WE THANK YOU FOR YOUR COOPERATION AS WE ATTEMPT TO GET THROUGH THIS CHALLENGE TOGETHER.
 WE ARE MOST THANKFUL TO BE BACK INTO THE CHURCH AFTER ALMOST 7 MONTHS.
Most recent info from the Diocese is below.  Please register for the seminars below if you like. Additional info can be found on the Diocese page on this website or go to www.rupertsland.ca
"4 Your Parish" – Information from the Diocese of Rupert's Land 
"But I'm an Anglican!" Sharing our faith with confidence
A  Missional Leadership webinar in the Diocese of Rupert's Land
Saturday, November 7th, 9:30 am to 12:00 noon
As Canadian Anglicans, we're often uneasy when it comes to sharing our faith with others. Yet as leaders in our parishes and ministries, we have to be able to do this ourselves so that we can help equip others to do the same; to share the good news of God's love in Jesus in ways that make sense for us and the people we're hoping to reach.
Join us for a morning with author, speaker, and theologian John Bowen as he encourages and challenges us to take seriously our calling to proclaim the good news of the Kingdom.
Registration is $10. Online payments can be made here:
https://www.eventbrite.com/e/but-im-an-anglican-sharing-our-faith-with-confidence-tickets-124291959597
(If you need to make a payment in another way, or to apply for a bursary to allow you to attend, please contact Heather McCance at mindev@rupertsland.ca) Once your payment is received, you will receive the link to the 'zoom' meeting.
Our most recent directive from Bishop Geoff Woodcroft regarding Covid 19 and the Church is as of Oct 14th and is below
Refer to the Government of Manitoba's website for additional info
https://www.gov.mb.ca/Covid19/index.html
CALL FOR HISTORY:
Over the next few months we will be putting together as much church history as we can, and it will be added to the website for your reading pleasure this fall.  If you have any old photos or stories that you think may be of interest, please let us know.
In the meantime, you can find some interesting facts on the Mischief page!
During COVID 19, the church continued to support the Selkirk Food Bank.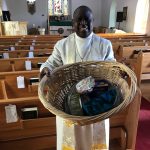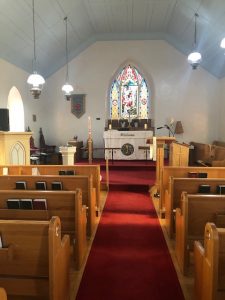 Requests for prayer
As the community works together to manage the effects of COVID-19 on all of our lives we are experiencing unprecedented and sometimes disturbing changes. For many people this is a cause for anxiety for some it's a time of extra risk and vulnerability. Others may have worries about managing day-to-day life over the next few weeks.  One way we can support one another is through ongoing specific prayer. If you have a particular need for prayer please email the clergy at.   stclementsanglicanchurch@gmail.com We will be honoured to include you in our ongoing prayer
St Clements Anglican Church
1178 River Road
St. Andrews, Manitoba R1A 4A1
Office 204-482-9486
WHEN OUR REGULAR SERVICES RESUME:
Sunday Services
Early Service 7:30 a.m.
Later Service 11:15 a.m. ( with music )
Welcome to St. Clements Anglican Church!  We are a warm and welcoming Parish that has served the Mapleton, St. Andrews, and Selkirk area since 1861. The Church abounds with history, and many stories and archives are available.  St. Clements Church was built by local volunteer labour;  we mention this as the volunteer base still exists here at St. Clements, and continues to build a strong foundation.  We have learned well from our ancestors.  Please take a moment to explore our website, and read about some of the events that are going on, all in the love of God.  You would be most welcome to join us for our Sunday morning Service!  Enjoy, and God Bless.
Where we are located
You will find our beautiful stone church at 1178 River Road, St Andrews, Manitoba; we are located minutes south of the City of Selkirk.  Our church borders the Red River, and our Church Park is located on the flats of the River.  It is a beautiful serene location…  If you are new to the area, or have lived here for many years, we encourage you to come and get to know us!  We would be glad to meet you!  Come as you are, and as you get to know us, we hope that you will get to know God.
Worship Times and Eucharist
Our regular service is 11:15 a.m. Sunday mornings which includes our Sunday School program.  We also have an early Sunday morning service at 7:30 a.m.  This service is a condensed version, but remains well attended by those who work nights and weekends, or for those who need the rest of the day.
St. Clements celebrates Holy Communion every week.  All those who are baptized are welcome to receive the sacrament of Eucharist in the Anglican Church according to your conscience.  To receive the Bread put your hands one on top of the other.  To receive the Wine, hold the chalice firmly in your hands and drink.  If you do not wish to receive either the Bread or the Wine, please still come to the altar for a blessing; cross your arms over your chest.  Parents are requested to instruct their children.  For health reasons you may stand at the altar to receive the Holy Sacrament or the blessing. If you are unable to leave your seat, please notify us and we will gladly accommodate you.