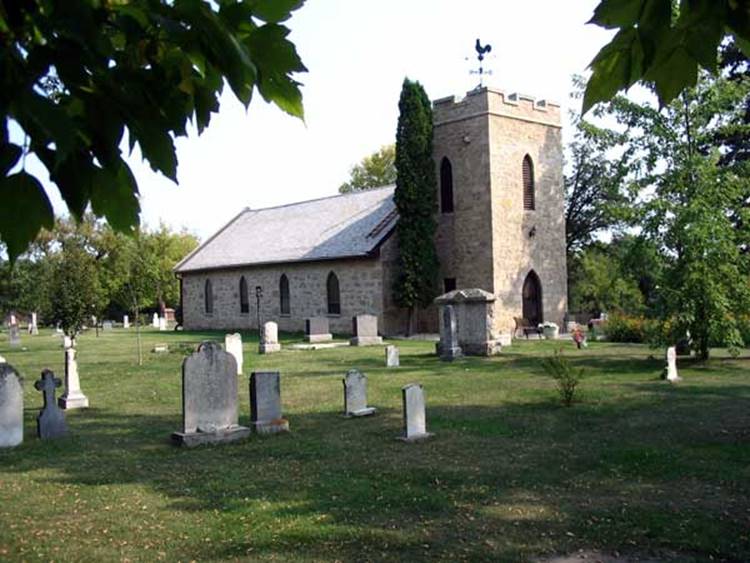 Welcome to St. Clements Anglican Church!  We are a warm and welcoming Parish that has served the Mapleton, St. Andrews, and Selkirk area since 1861. The Church abounds with history, and many stories and archives are available.  St. Clements Church was built by local volunteer labour;  we mention this as the volunteer base still exists here at St. Clements, and continues to build a strong foundation.  We have learned well from our ancestors.  Please take a moment to explore our website, and read about some of the events that are going on, all in the love of God.  You would be most welcome to join us for our Sunday morning Service!  Enjoy, and God Bless.
Where we are located
You will find our beautiful stone church at 1178 River Road, St Andrews, Manitoba; we are located minutes south of the City of Selkirk.  Our church borders the Red River, and our Church Park is located on the flats of the River.  It is a beautiful serene location…  If you are new to the area, or have lived here for many years, we encourage you to come and get to know us!  We would be glad to meet you!  Come as you are, and as you get to know us, we hope that you will get to know God.
Worship Times and Eucharist
Our regular service is 11:15 a.m. Sunday mornings which includes our Sunday School program.  We also have an early Sunday morning service at 7:30 a.m.  This service is a condensed version, but remains well attended by those who work nights and weekends, or for those who need the rest of the day.
St. Clements celebrates Holy Communion every week.  All those who are baptized are welcome to receive the sacrament of Eucharist in the Anglican Church according to your conscience.  To receive the Bread put your hands one on top of the other.  To receive the Wine, hold the chalice firmly in your hands and drink.  If you do not wish to receive either the Bread or the Wine, please still come to the altar for a blessing; cross your arms over your chest.  Parents are requested to instruct their children.  For health reasons you may stand at the altar to receive the Holy Sacrament or the blessing. If you are unable to leave your seat, please notify us and we will gladly accommodate you.
Sunday Bible Readings
Year A
March 1st, 2020 1st in Lent
Old Testament Reading: Genesis 2: 15-17, 3: 1-7
Psalm:  Psalm 32: Page 742
Epistle:  Romans 5: 12–19
Gospel:  Matthew 4: 1-11
Collect: Page 286
March 8th, 2020 2nd in Lent
Old Testament Reading: Genesis 12: 1-4a
Psalm:  Psalm 121: Page 882
Epistle:  Romans 4: 1-5, 13-17
Gospel:  John 3: 1-17
Collect: Page 288
March 15th, 2020 3rd in Lent
Old Testament Reading: Exodus 17: 1-7
Psalm:  Psalm 95: Page 833
Epistle:  Romans 5: 1-11
Gospel:  John 4: 5-42
Collect: Page 289
March 22nd, 2020 4th in Lent
Old Testament Reading: 1 Samuel 16: 1-13
Psalm:  Psalm 23: Page 731
Epistle:  Ephesians 5: 8-14
Gospel:  John 9: 1-41
Collect: Page 291
March 29th,  2020 5th in Lent
Old Testament Reading: Ezekiel 37: 1-14
Psalm:  Psalm 130: Page 888
Epistle:  Romans 8: 6-11
Gospel:  John 11: 1-45
Collect: Page 291
Quote of the Month
THIS  IS FABULOUS!!!
It was written by an 8-year-old named Danny Dutton, who lives in  Chula Vista , CA  . He wrote it for his third grade homework assignment, to 'explain God.' I wonder if any of us could have done as well?
(and he had such an assignment, in  California , and someone published it, I guess miracles do happen!)
EXPLANATION  OF GOD:
'One of God's main jobs is making people. He makes them to replace the ones that die, so there will be enough people to take care of things on earth. He doesn't make grownups, just  babies. I think because they are smaller and easier to make. That way he doesn't have to take up his valuable time teaching them to talk and walk. He can just leave that to mothers and  fathers.'
'God's second most important  job is listening to prayers. An awful lot of this goes on, since some people, like preachers and things, pray at times beside bedtime. God doesn't  have time to listen to the radio or TV because of  this. Because he hears everything, there must be a terrible lot of noise in his ears, unless he has thought of a way to turn it off.'
'God sees everything and hears everything and is everywhere which keeps Him pretty busy. So you shouldn't go wasting his time by going over your mom and dad's head asking for something they said you couldn't have.'
'Atheists are people who don't believe in God. I don't think there are any in Chula Vista . At least there aren't any who come to our church.'
'Jesus is God's Son. He used to do all the hard work, like walking on water and  performing miracles and trying to teach the people  who didn't want to learn about God. They finally got tired of him preaching to them and they crucified him. But he was good and kind, like his  father, and he told his father that they didn't know what they were doing and to forgive them and God said O.K.'
'His dad (God) appreciated everything that he had done and all his hard work on earth so he told him he didn't have to go out on the road anymore. He could stay in heaven. So he did. And now he helps his dad out by listening to prayers and seeing things which are important for God to take care of and which ones he can take care of himself without having to bother God. Like a secretary, only more important.'
'You can pray anytime you want and they are sure to help you because they got it worked out so one of them is on duty all the time.'
'You should always go to church on Sunday because it makes God happy, and if there's anybody you want to make happy, it's God!
Don't skip church to do something you think will be more fun like going to the beach. This is wrong. And besides the sun doesn't come out at the beach until noon anyway.'
'If you don't believe in God, besides being an atheist, you will be very lonely, because your parents can't go everywhere with you, like to camp, but God can. It is good to know He's around you when you're scared, in the dark or when you can't swim and you get thrown into real deep water by big kids.'
'But…you shouldn't just always think of what God can do for you. I figure God put me here and he can take me  back anytime he pleases.
And…that's why I believe in God.'